ABOUT ME
I am a drawing artist who spends time in an air-conditioned Gold Coast home studio, trying to avoid the blazing hot Australian sun!

What better way to occupy my time in this blissful introvert solitude than creating a beautiful artwork for you to treasure and talking with my studio assistant who refuses to talk back (assistant pictured).
I am best known for my diverse subjects and detailed artworks that catch the eye. Primarily working with colour pencil and graphite, I specialise in expressing realism through my technique.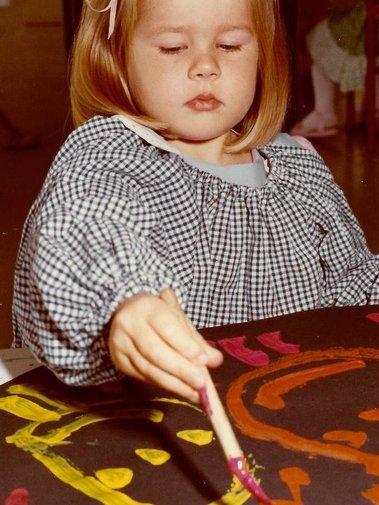 I'm great with macaroni
When people see the intricate level of detail in my work it usually leads them to ask, "When did you start drawing?"

My beginning in art was mundanely typical…I started drawing as a child, blah blah blah...you know, the usual stuff. I drew on the walls and coffee table but I was no prodigy. Like most children, I brought home various hodgepodges of painted macaroni, pipe cleaners and lint, leaving my parents to wonder which one of their likenesses it most closely resembled.
I continued my artistic endeavours throughout my schooling. The art curriculum was ordinary as were many of the teachers, including the one who claimed to highly esteem accurate drawing but could never manage to put her own lipstick on straight.
Thankfully, like the joy of finding a shopping trolley that steers straight, I had two great art teachers. One taught me that art is infinitely broader than macaroni jewellery and neon coloured pipe cleaners, and the other, that there is a lot to learn from great artists of the past.
I choose my subjects like I choose my food, I'll have a little of everything!

You will see that my portfolio expresses a constantly changing subject matter. I felt less alone in this approach when I was taught about the great master, Rembrandt.
His diverse body of work meant one minute he was painting the sour-lemon facial expressions of an 83-year-old woman, the next, he was painting groups of smug men fondling drapes (pictured). Now, I no longer hesitate to shift subjects, and I continue to draw in my unmistakable realistic and detailed style.
A touch of psychosis
I also derived great insight from Vincent Van Gogh. I had the pleasure of drawing Vincent's poorly constructed IKEA furniture, otherwise known as 'The bedroom' (pictured), for a high school art assignment. I accompanied it with an essay full of flowery words to convince the teacher, Vincent's distorted perspective, odd angles and wall hangings that looked like they would crush you in your sleep, were somehow enlightened and meaningful.
Although I didn't appreciate his use of perspective and proportion, I appreciated his endeavours to constantly work at developing his skill and his tenacity to follow his dreams when no one believed in him. And like all great artists, he showed me that a touch of psychosis is all one needs to achieve the heights of inspiration!
Lunch breaks aren't just for escaping the office to cry into your salad
This love of historical study made me wonder whether I should go to university and study art history. Did I? The short answer is, no.

Skip ahead several years and I abandoned art for a full-time career in the corporate world, one that paid better, but unfortunately was far away from sharp objects and dangerous art supplies. In fact, I worked in places where anything that looked remotely like a chemical was locked away for fear the staff might drink it and start an uprising.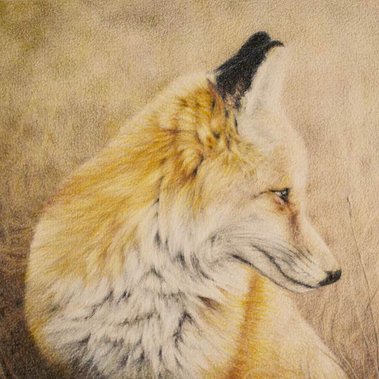 I dabbled with painting here and there in my spare time while I worked a job that made me feel numb inside. One day, instead of spending the day contemplating stapling my fingers just to see if I could feel something again, I decided to escape my feelings by drawing small artworks in my lunch break (my most memorable piece pictured here).
I am forever thankful for the convenience and portability of coloured pencils. Drawing happy memories of a world far removed from the stench of co-worker's microwaved tuna and endless meetings about doing something that made no sense at all, brought an immense sense of fulfillment.
My inspiration and artsy-fartsy smock
I truly started drawing when I took myself seriously and became a professional artist. I have now spent years honing my skills and producing works I proudly share with you.
My inspiration comes by something slightly offbeat, situations of everyday life and recreations of my years of travel. Some pieces tell a clear story, others allow the viewer to derive their own meaning and connection. Being unencumbered by set themes and subjects allows me to create something truly unique to the moment.
I have been told I am "down-to-earth" in my creative approach and talents. I welcome this description as I firmly believe art skills are attainable by anyone. It takes dedication, hard work and practice, rather than wishful thinking and an artsy-fartsy smock!
AWARDS & RECOGNITION
For more information about my award winning work and other media recognition click here
ABOUT MY PROCESS
Creating deliciously detailed subjects with no more than a sharp millimetre of pencil to do the job is no easy feat. It requires many hours, sometimes weeks and months, to build up the pigment, particularly on a large scale. My meticulous technique ensures the artwork has a depth of realism and can captivate its viewers.
Works of art are valuable, one-of-a-kind pieces that should be preserved at their original degree of quality for as long as possible. As a professional artist I only use the highest quality archival materials available to ensure longevity, sourcing supplies from the worlds leading professional artist brands.